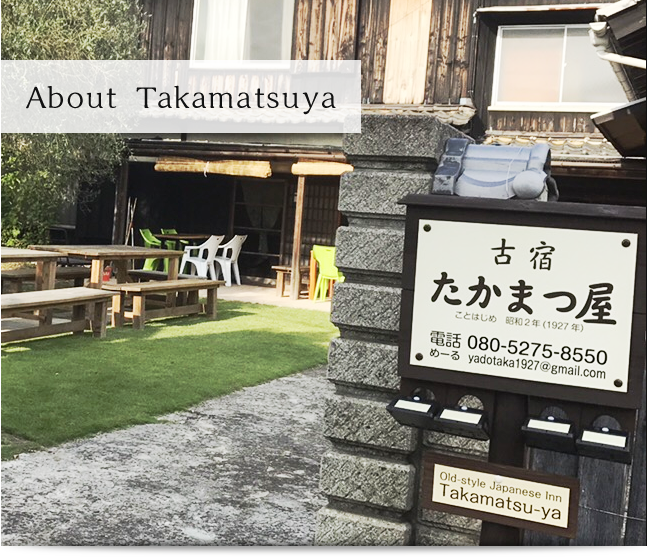 About Takamatsuya

Takamatsuya sign from around 1955.
Takamatsuya is located on Teshima, an island in the Seto Inland Sea. It is housed in a building that used to be a ryokan, which was reopened in 2012 as an inn for use by all visitors to the island.
Teshima is also famous as a "welfare island".
Based on the will of the social activist Toyohiko Kagawa, a building that used to be a sanatorium before the war was converted into an infants home as a part of the search for life-giving food for infants during the post-war confusion. This home, helped to save the life of many children.
A succession of welfare facilities were opened after that, including a special elderly nursing home, a rehabilitation facility for people with intellectual disorders, and group homes.
According to former patients in recovery at that time, amidst the rumors of tuberculosis that were circulating around 1941, the ryokans of Teshima began accepting them as guests and let them bath, looking after them as equals. Toyohiko Kagawa was also a frequent guest at the Takamatsuya Ryokan (Takamatsuya) at that time, where he would enjoy delicious crab meals…as noted in the full set (24 volumes) of his memoirs.
Introduction of Our Activities
Recruiting volunteers to help keep Teshima clean!
Facilities & Equipment