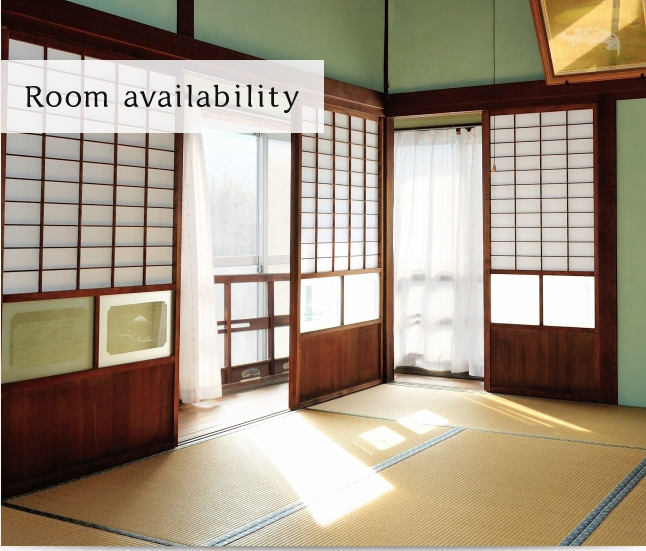 Reservations can be made by filling in the following booking calendar.
・For reservations inquiries TEL 080-5275-8550
・Reservation form Please click on the days you would like to make a booking on the calendar below. You will be directed to the Reservation form.
For consecutive night bookings, please contact us by phone or email using the Inquiries form.
○ = Available △ = Almost full 
× = Fully booked 休 = Regular holiday
Check in/Check out
Check in: From 16:00~ Check out: until 10:00
Rates
Room for 1 Adult per night: 6,600 yen (tax inc.)
Room for 2 Adults per night: 11,000 yen (tax inc.)
Room for 3 Adults per night: 13,200 yen (tax inc.)
Breakfast 900 yen per person (tax inc.)

*Adult: Junior high school students or older
*Rates for elementary school students: Half of the Adult
*Children younger than elementary school students are free of charge when sleeping with Adults. If extra futon needed: +2,000 yen

Dinner: Please make a reservation directly to the restaurant at the recommended corner.When booking, please tell the restaurant that you will stay at Takamatsu-ya.
Cancellation Policy
Please make any cancellations requests as early as possible.
If the reservation is canceled on the day of check-in: 100%
If the reservation is canceled the day before check-in: 50%
Facilities
Towel
Bath towel
Hair dryer
Microwave oven
Toaster
Shower (outdoor unit shower is also available)
Hair dryer (only used in the shower room, 3 hair dryers to lend at the reception)
Washing machine (charged) / Tumble dryer (charged)
Amenities
Shampoo
Body soap